We've just issued a press release that reveals our first crop of Premium Games. Below you can find media coverage of the release (which I'll be adding to as more comes out) and some descriptions and art of each game. *Media Coverage*
http://www.gamezebo.com/news/kongregate_pays_to_take_flash.html
http://www.gamasutra.com/php-bin/news_index.php?story=16215
http://www.techcrunch.com/2007/11/13/kongregate-wants-you-to-quit-your-day-job-and-make-games/
http://www.next-gen.biz/index.php?option=com_content&task=view&id=7921&Itemid=2
http://pc.ign.com/articles/834/834282p1.html
http://pc.ign.com/articles/834/834910p1.html
http://www.escapistmagazine.com/articles/view/editorials/interviews/2635-Kongregate-Announces-Premium-Games
http://cocak.blogspot.com/2007/11/intuitive-interview.html
*The Games* _Dinowaurs_ by "Intuition Games":
http://intuitiongames.com
In development by Intuition Games, Dinowaurs is a multiplayer trajectory shooter in which cute, innocent cartoon dinosaurs battle unknowingly to the death in real-time. Dumb and ignorantly sweet, these dinos don't think a thing about their cruel, barbaric human handlers strapping things like missile launchers, cannons and even aircraft carriers to their backs to wage war – inadvertently causing their own extinction.

_Zening_ by "Michael King":
http://zening.com
Created by developer Michael King, Zening is a futuristic strategy game that casts the player in the role of Katrina, a hospitalized war journalist who begins having startlingly vivid dreams of war and battle with horrific fantasy creatures. With the help of other ensnared dreamers, Katrina must fight through the monsters to uncover the terrible truth behind the dreams. Zening also features team deathmatch multiplayer modes, two- and four-player combat, webcam support and a fully voiced narrative.
_Remnants of Skystone_ by "Flipline Studios":
http://www.flipline.com
Created by Flipline Studios, makers of Papa Louie: When Pizzas Attack!, Remnants of Skystone is a platform adventure MMO that sends players on a mission to reclaim their world from the hostile alien Mimics. Players can choose one of three different customizable character types: the grappling hook-wielding Crags, the nimble tree-climbing Tribals and the steampunk Jetpackers. As players progress through single-player and real-time cooperative adventures, they find Material Orbs that can be worked into furniture and accessories for their virtual houses in SkyTown.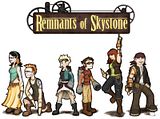 _Lila Dreams_ by "Creatrix Games":
http://www.creatrixgames.com/
Developed by Creatrix Games, Lila Dreams is a platformer MMO that takes place inside the surrealistic and often grim mind of an eleven-year-old girl named Lila. Players become mental warriors named Memekin, each aligned with a particular emotional state. Real-life crises will plague Lila, resulting in drastic changes to the weather and the appearance of platform-based labyrinths where players get the chance to battle creatures from within Lila's psyche, compete to raise their faction's influence and ultimately affect Lila's life on the outside. Will Lila make good choices fueled by hope and optimism, or make bad choices as she spirals into hate and jealousy?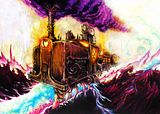 _Argue (About Everything_ by "Adam Schroeder":
http://www.evilfree.com/index.html
and Roger Bankus Developed by Adam Schroeder and Roger Bankus, Argue (About Everything) is a multiplayer real-time strategy game that allows players to pick either side of an argument and duke it out on the field of battle. Featuring customizable characters, customized arguments and a web-page-embeddable argument status widget, players can attack with Passionate statements, refute their opponents with Facts, or rely on Reason to win fast, five-minute battles that will determine the final answer to any argument.