A Definitive Guide to Tyrant Raids:
Raids are a new group PvE experience on Tyrant that allows a group of individuals the chance to fight a specialized opponent that is stronger than the single player experience. Cooperation is key as you are required to work together to take down a "boss" that requires dozens, hundreds, or thousands of attacks to defeat. I've compiled this information together in order to hopefully answer any question that anyone not acquainted with raiding might have.
How to Initiate a Raid:
A raid can be started by a single player by going to the Faction tab and the Enter button of the raid. When you start the raid you will be charged 25 energy. Be warned that besides Arcantis all the raids require a significantly sized group of players willing to spend quite a bit of time on the endeavor. Also, when you create a raid you are not able to create another raid during both the period the raid is active AND during its cool down period.
How to Invite Others:
Inviting your friends and faction members is very easy. Inside the raid there is a button in the bottom right hand corner of the screen that says "Request Backup." Clicking this button brings up a popup that has both a link and a button that states "Post to Faction." You can send the link to your friends, post it in the forums or chat, or click the "Post to Faction" button to have an invite button posted in the Info section of your Faction.
How to Join a Raid:
Luckily there are lots of people starting raids so you will not be limited in your choices. Once again, if you are thinking about joining a raid please read the descriptions below and make sure you are willing to invest that much energy to the raid so as not to be a drain on the raid. To join you can click on an invite link in the forum, chat, or Info button of your faction. If for some reason the link does not work for you please copy and paste the link into your web browser. That's it, you're in.
How Raids Work:
Raids combine the collective attacks of all the players against the raid "boss" much like a war between factions, but instead of comparing two different scores each raid has a certain amount of health that must be defeated inside of a time period that begins when the raid does. Damage points are accumulated for each win and you get between 15-25 points per successful attack. It seems to closely follow the formula for war points.
After defeating a boss you must go back to view the raid within 24 hours and click the "Claim Rewards" button, if you do not collect your rewards in time they are lost. Also, after each attempt at a raid each player is given a cool down before another attempt that varies based upon the raid.
Honor and Getting Cards:
There is a new section of the Store → Rewards → Raid cards. Here you can find 11 new cards that available after achieving a certain amount of faction with its raid. Honor is gained based upon a tier system that rewards each player for helping the group achieve its goal. Here is a listing of the point value tiers and their associated honor gains (Thank you, Noth):
Values for Honor/Damage:
0-24 Damage = 0 Honor
25-75 Damage = 2 Honor
76-150 Damage = 5 Honor
151-250 Damage = 15 Honor
251-500 Damage = 25 Honor
501-750 Damage = 50 Honor
751-1000 Damage = 80 Honor
1001-1500 Damage = 110 Honor
1501-2000 Damage = 155 Honor (Tier only available on Imperial Purger and Tartarus Swarm)
2000+ Damage = 200 Honor (Tier only available on Imperial Purger and Tartarus Swarm)
For Arctis Vanguard it works somewhat different:
0-25 Damage = 0 Honor
26-75 Damage = 2 Honor
76-250 Damage = 5 Honor
251-400 Damage = 15 Honor
401+ Damage = 20 Honor
So the only way to get 20 Honor on Arctis Vanguard Raid is to solo it and not be unlucky enough to hit exactly 400 points.
After achieving the required amount of honor for each card you may purchase the cards with gold. Each card may be purchased multiple times just like reputation rewards. Here is a list of the reward cards:
Arctis Vanguard:
(20 Honor/250 Gold) Unfortunately Safeguards 2CD drops it from a great card to mediocre. The one caveat is that it is easy for a low level to get this card by themselves and use themselves and use it instead of Sawblade rush, but this is not recommended as Sawblades are superior for mission grinding.
Xeno Walker:
(100 Honor/12000 Gold)
While it does give Xeno another quick siege unit, Ixnedrone is considered mediocre by a large part of the community.
Siege on Kor
Requires 100 Honor to unlock and 12,000 Gold to buy
Gatling tower is going to change a lot of defense decks. Expect this Strike/Jam/Weaken to be used in Draco decks instead of Tesla Towers.
Imperial Purger
(100 Honor/12,000 Gold) Remote Analyzer might be useful in certain weaken defense decks or combined with Nimbus or if the meta changes to have more Flying defense decks.
(500 Honor/15,000 Gold) Hellion is a card that is generating a lot of interest. It seems comparable in strength to Stealthy Niaq while having the advantage of not being unique, but would be a lot stronger if Imperial had access to better rally cards. Look for offensive meta to include this card soon.
Enclave Flagship:
(100 Honor/12,000 Gold) Sustainer Xolan seemed like a very intriguing defense card, but seems to be somewhat of a let down. The inability to deal quick damage to the opponents deck seems to work poorly in the current meta environment.
(500 Honor/15,000 Gold) Azure Reaper is one of the most sought after raid cards. It's combination of High health, evade and flying can be strong against enemies that lack anti-air.
Oluth:
(100 Honor/12,000 Gold) I see a lot of potential for Toxic Cannon if the meta moves away from strikes. I doubt this will happen soon though.
(500 Honor/15,000 Gold) Carrion Retriever is a little slow but some are attempting to use it in regeneration based defensive decks. I feel that the cards to make it effective are not there though.
Tartarus Swarm:
(100 Honor/12,000 Gold) Yet another weaker version of EMP. EMP can't be improved upon so they try to make utility version of it.
(500 Honor/15,000 Gold) Big, slow, and with more leech than it can use without an outside source or rally. Some think it can make a slowroll BT deck work.
The below was contributed by Shadowhopeful
The content is unchanged from what was sent to me except for some formatting.

(800 Honor/15000 Gold)
A 3 turn warm up makes this useless for rushes, but for Slowroll, it's very different. This card is great for keeping your units alive, and can help against a wall stall. This issue here is, like Ixnedrone, the price. 15k for a single card that has limited use cripples its value.
Rating 5/10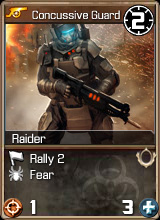 (800 Honor/15000 Gold)
A fear card. For Raider.
Like Safeguard, Concussive Guard's usefulness is highly reduced by it's 2 cooldown. And it's overpriced. The only thing good about this card it "Rally 2", but you would be better off using a different card.
Rating: 2/10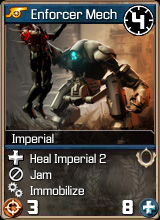 (1000 Honor/15000 Gold)
Enforcer mech looks promising as a slowroll card. Healing + Jam + Immobilise is a very appealing combination, especially if combined with rally, and with high health and hp, this is worth getting.
Rating: 8/10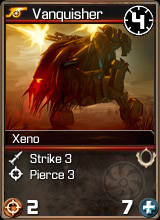 (1000 Honor/15000 Gold)
At a first glance, Vanquisher looks like a good card to use, especially in a Xeno Slowroll. But look again. Pierce is not the most respectable skill to hold, and even though it has its uses, I hold doubts as to the usability of this card compared to equivalents like Titan.
Rating: 6/10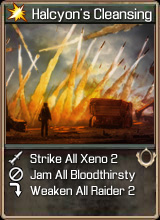 Take Blight Tower, Pump it up a bit, turn it into an action card, and make it discriminate BT instead of Imperial. Alliance specific cards are not the best to use, especially as you can substitute cards like EMP, Pandemic, or Destruction. Overall, not a good card.
Rating: 4/10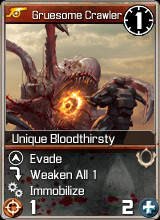 That card looks awesome. Because it is. Weaken All 1 with only 1 turn warm up is incredibly useful, and evade and immobilise makes it a hard card to kill. especially if you put it down AFTER your first card. However, 2 hp makes it heavily susceptible to EMP and the like, especially counter. Best used as a flanker.
Rating: 7/10
Thanks for the info Shadowhopeful
Over the next few posts I detail the different raids. Keep in mind that I do not give a definitive card list because the raids have a pool of cards that it gets the cards from and the cards change over time in order to increase the difficulty of the raid.