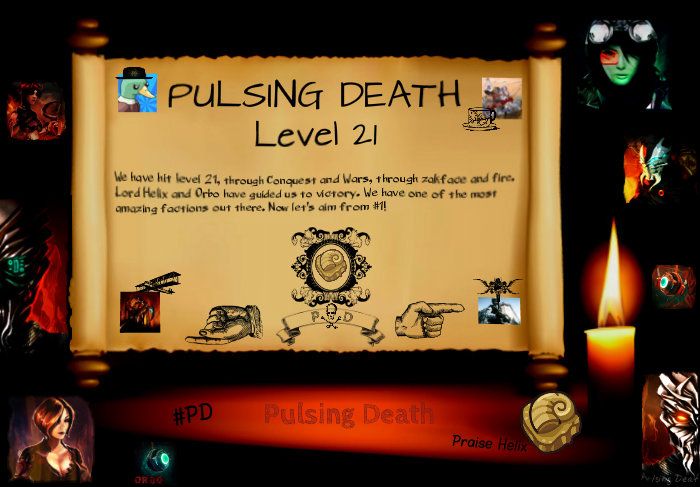 Pulsing Death Level 22
We are a friendly top 15 faction who are recruiting new members into our ranks. We regard ourselves as radically different from most other top 15 factions, and that we believe that we can offer a fair and friendly environment for players to gain top cards, improve their decks and win wars!
• A stable faction – Pulsing death has been around for over two years. We will not disband, and we can guarantee you will not be wasting your time with us.
• A stable position – Unlike most top 15 factions, we do not have strict weekly faction point requirements. If you have exams, or are busy one week, we will not kick you out. We don't believe that fighting wars are a chore; we want to promote a casual, friendly environment to enjoy.
• Advice for decks – Our top players will assist you in making a good fight and surge deck!
• Faction reward cards up to level 21 (Earthshaker)!
• Conquest Tokens – Currently having a potential for 8 tokens a day, with 6 tokens guaranteed
• Level 40+. Our average member level is over 140, but we don't believe that your level truly reflects your activity – especially if you're new and have promising cards.
• Active We don't have faction point requirements, but if you are consistently earning below 200 faction points a week, we will have to warn you, and eventually kick you.
• Communicative We want you to talk to us through the faction chat and engage in discussions and strategies.
• Decent Cardpool We require you to have a decent cardpool, so that we can make efficient decks for you for conquest and faction wars.
• Engaging If we want to do something, we would like you to listen and follow our advice. Also, we have a forum in which you can read and post things in. :)
• Some faction components – 10 Silver Diodes and 3 Silver Transistors is ideal, although we do make allowances, especially if you are active. You can get these at time, so there is if you want to buy some packs first.
• Activity on a daily basis – We would expect you to login daily to participate in faction wars or conquest.
• Registered on the Tyrant Fansite – This will help us to build you good decks if you are struggling.
• Signed up to our forums!
• PM UnknownSpirit / Jackdaw before you lose activity, preferably with a reason.
• A bit of chat. :) Good to get to know each other.
I'd like to join, but I have more questions?
If you have any more questions please feel free to ask one of our members in the thread below, or, if it is a private message, feel free to whisper our leaders Jackdaw, Unknownspirit, HarlequinD, Frostpaladin, Plaag, FIQ, megamanman, VaughanX, festerling. Otherwise, you can simply apply to our faction by clicking the link below!