Each month, beginning at launch, SmashMuck Champions will have running League play. The League determines which Game Type is ranked in that given month, what prizes are awarded, and the League Ladder.
Leagues provide additional benefits for any player's participating in the Game Type that is sponsored. The First League is the SmashMuck Invitational.
• +20% bonus to Workout Drops
• +20% Bonus CC each Game Played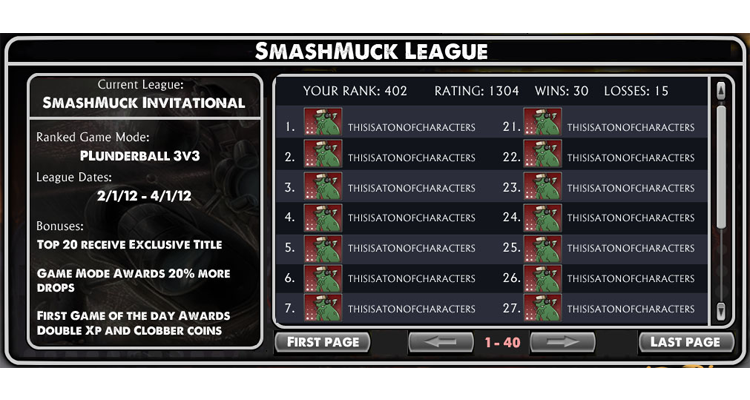 Ranked Games:
Each League has one sponsored Game Type. When players select the sponsored Game Type from the Matchmaking system, they will immediately be added to the League Ladder and Ranked. Ranked Games are played to determine a player's spot on the League Ladder. The player's current spot on the Ladder is determined by a number of factors:
Ladder Rank:
As players play and win more games, their Ladder Rating will increase and move them up the Ladder. A player's Ladder Rating is determined by the total number of games played in the ladder and the number of wins/losses that occur during the course of play. In general, players ascending the ladder will gain points faster until they begin to reach the middle of the ladder. In the middle, players that lose a game will lose more points than they would gain for winning. At the very top of the ladder, players will lose two or three times more points if they lose a game than if they win a game. This helps push teams and players towards their natural levels of wins and losses. As more games are played in the Ladder, the values of win/losses will increase in range (more points on the low end for winning). The actual math behind needs to be researched and tweaked until this works correctly. We will use the same standard of ELO rating that we use for a single player's Overall Rating.
At the end of the League, players ranked in the Ladder will receive rewards based on their spot in the Ladder:
• Top 1% – Gold Invitational Logo, League Master Trophy, "Invitational Master" Title.
• Top 10% – Silver Invitational Logo, League Champ Trophy, "Invitational Champ" Title.
• Top 50% – Copper Invitational Logo, League Contender Trophy, "Invitational Contender" Title.
• Participant (at least 5 Ladder Games), League Participant Trophy, "Invitational Participant" Title.
The Bonus you've received will be awarded in a pop-up the next time a person logs into the game. This pop-up explains the end of the League and your final rank. Additionally, any Titles/Trophies earned will be added to the player's account at this time and displayed on this pop-up.