Hey all,
Here are the Default for Controls in BHB. You can change them in settings.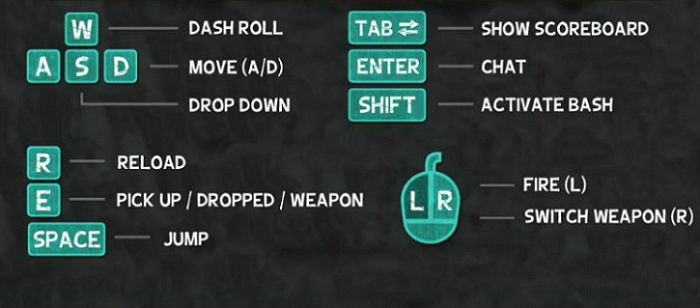 We have been listening to your feedback and comments in the boards here and we have gathered some of the responses on your burning questions from the Big Head bash team.
So here are some of the responses & we'll be doing more of these as we get more questions.
1) What does the BASH meter do?
The BASH meter fills with each time you damage or kill another player. Once it's full, you press shift key to enter into BASH mode. BASH mode toys run faster, have faster reload speed and take less damage.
1) What does Dash do?
Dash is a tactical dodge roll maneuver. It's [Ctrl] by default. It allows you to roll underneath bullets and make quick maneuver to try and put some distance between you and other opponents.
2) Do different toys, do different things? Or are they all appearance?
Each toy in BHB is unique in appearance. They all share the same stats.
3) We need a better tutorial and instructions, will this be addressed?
The tutorial will continue to evolve as the games goes through its paces.
4) Will there be additional modes coming to the game?
Currently BHB supports two modes: Team Death Match and Capture Point
Two prototype modes are Hot Potato and Climber.
5) Will there be in game chat?
Yes, it was added on 7/4 version
6)Can we see Kill/death ratio after the game?
Yes, it was added 6/6.
7)Will there be button configuration options in the future?
Button configuration was added on 8/15
8)Assist killing- why is there no points for assist killing like in other FPS?
BHB does award points for assist kills. New UI to support this has been added.
9)Will there be match making so that n00bs aren't place with higher level players?
As of 10/17 player can create rooms and chose to lock them via level.
10)Will there be a market or a feature where players can trade tickets/items?
While it's not in the current update schedule, BHB may have this feature in a later update.
11. Will there be rewards for longer kill streaks?
It's in the pipeline but no date has been set.
13. Where is the A.I. mode?
We want to focus our effect on making a better PvP experience. However we've shifted focus to bug fixing and stabilization before continuing forward with new features. However it's still in the pipeline.
14. Will there be team-only chat to discuss strategy & main lobby chat?
Added team chat on 7/4.
Add lobby chat on 10/23.
15. Will we get a better melee weapons?
A new melee weapon system is in pipeline.
*16. You guys should have Daily rewards! where players can get a token or other rewards.
Daily Quests were added. Completing of Daily Quests gives you tickets, tokens and XP as well as a prize for consecutive quest completion.
17. How about an extremely big version of the jungle where people can shoot underwater? underwater = no gravity?
Lovely idea, we'll investigate into it.
18. Where are achievements (not action-awards)?
They are in pipeline. And yes, you'll get rewarded well.
19. A minimap.
Suggestion is noted and we'll see if we can.
20. What about new pickup items in the map?
We added new Health Drops, Bash Boxes, and Ammo Boxes. Also you can now equip boosters.
21. Can we select our own cursors or otherwise customize it?
The suggestion has been noted and we may be able to add it to the pipeline.
22. What about more weapons and toys?
Toys and weapons are always in the pipeline.
23. How do you pick up weapons?
Press 'E' to pickup dropped weapons.
24. Why did the Collector value of toys and weapons change?
On the 10/31 build the level locked toys and weapons were unlocked. Also, the price of all toys and weapons were reduced in most cases. Collector Value was originally based on few factors, level required to purchase and number of tokens or tickets required to buy it. With all the changes that have been made, the Dev team had to re-calculate the collection value of all of the items in BHB to reflect the new price range.
25. What are Action Awards?
Some people have been asking what Action Awards do.
Firstly in their most simple form, they're like trophies or achievements.
Secondly, they give you extra score, but only when you've unlocked them.
E.g.. You get an extra 25 points for a Long Shot kill on top of the normal kill score, but you will only get this extra 25 points, once you've unlocked the achievement at level 15.
There will also potentially be a deeper link between your score and experience that's in the pipeline, but I can't really talk about that yet ;)

Here are the action awards:
Action Awards List:
Unlocks at level 1 or higher
Bash Mode – Activate BASH mode + 100 points
Kill – Kill an enemy + 100 points
Unlocks at level 1 or higher
Critical Kill – Kill an enemy with critical hit + 25 points
Unlocks at level 1 or higher
First Blood – Achieve the first kill during match + 50 points
Unlocks at level 1 or higher
Revenge – Kill an enemy who killed you most recently + 50 points
Unlocks at level 1 or higher
Afterlife – Achieve a Kill after death + 50 points
Unlocks at level 1 or higher
Assist – Assisting a kill + 20~80 points (depends on amount of damage dealt)
Rescue – Kill an enemy who was attacking your friendly + 25 points
Unlocks at level 1 or higher
Double Kill – Kill 2 enemies in rapid succession + 75 points
Unlocks at level 1 or higher
Long Shot – Kill an enemy with long Shot + 25 points
Unlocks at level 1 or higher
Triple Kill – Kill 3 enemies in rapid succession + 100 points
Unlocks at level 1 or higher
Bash Ender – Kill an enemy who is in BASH mode + 100 points
Unlocks at level 1 or higher
Multi Kill – Kill 4 or more enemies in rapid succession + 125 points
Unlocks at level 1 or higher
One Shot One Kill – Kill an enemy in full HP with one shot + 50 points
26. How do I change graphical settings?
We have added the ability to changes the graphical settings of the game to suit your connection. Here is how to change it :
1)Click the settings button here: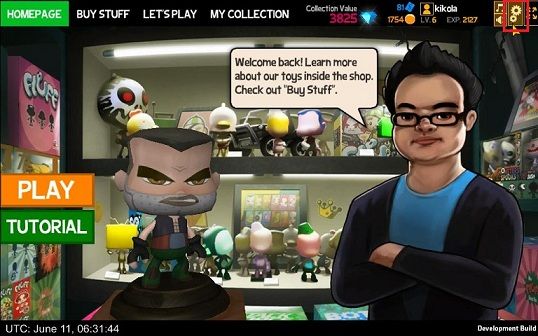 2) Now choose the graphical setting that suits your PC/MAC, Fastest (lowest graphical fidelity to Fantastic (highest fidelity)

Note: Changing to lower settings may affect the readability of text.
Simple is the default graphical setting.
Happy BASHing