Merging System
Merging System has been introduced last December 2013. This has already started a lot of confusion as most players think that Pet Merging is the same as other game's "Pet Fusion" System.
Merging is to improve the Grade of your Pet:
Grade C >> Grade B
Grade B >> Grade A
Grade A >> Grade S
You can open the Pet Merging Interface when you open your Pet Window by clicking letter "P".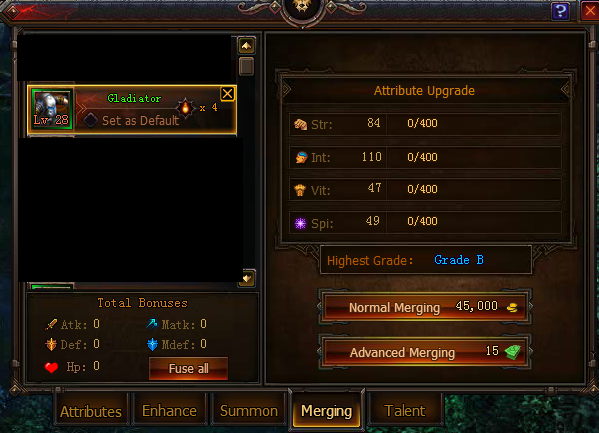 "Merging" is on the fourth tab.
There are two types of merging:
Normal Merging: Using Coins
Advanced Merging: Using Cash
You can choose between the 2 merging types.


Using Normal Merging randomly increases by 2 points one of the 4 Attributes (Str, Int, Vit, Spi)


(Example shows Int raised from 0/400 to 2/400)
Using Advanced Merging increases all 4 attributes (Str, Int, Vit, Spi) by 6 points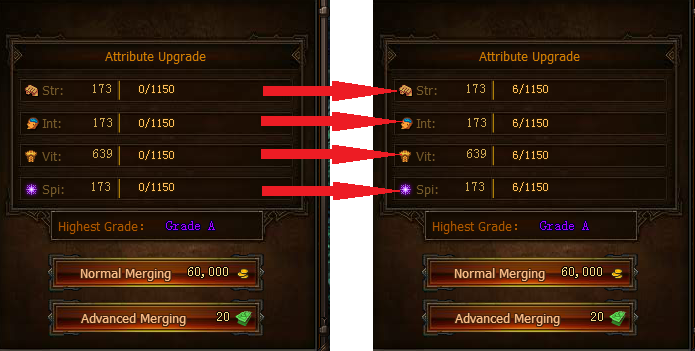 Merging Costs:
Normal Merging:
Grade C >>> Grade B = 45000 coins
Grade B >>> Grade A = 60000 coins
Grade A >>> Grade S = 75000 coins
Advanced Merging:
Grade C >>> Grade B = 15 cash
Grade B >>> Grade A = 20 cash
Grade A >>> Grade S = 30 cash
Merging Requirement:
Grade C >>> Grade B = 400
Grade B >>> Grade A = 1150
Grade A >>> Grade S = 2350
Merging Notification:
Before you click on Normal Merging or Advanced Merging, you will see a confirmation message: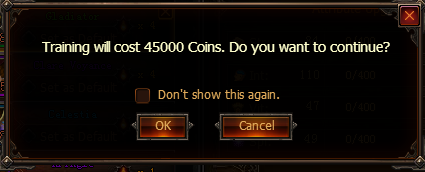 //This was prepared by tresangel22 of Wings of Destiny Philippines