Cheese Quesadilla

INGREDIENTS:
Two quesadillas
Shredded cheese
INSTRUCTIONS:
1)Put cheese on tortilla. Top with 2nd tortilla
2) Heat in oven at 350 degrees for like 5 minutes or whatever; play it by ear.
---
English Muffin with Jam

INGREDIENTS:
English muffin
Jam
INSTRUCTIONS:
Toast English muffin. Spread jam on top. Eat.
They're delicious.
---
Grilled cheese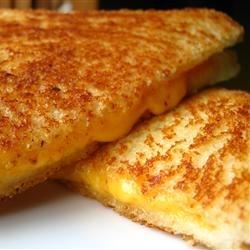 INGREDIENTS:
Two slices cheese
Two pieces bread
Butter
INSTRUCTIONS
1)Butter bread generously.
2) Put bread butter-side down on frying pan over medium heat.
3) Stack both pieces of cheese on bread.
4) Top with final piece of bread butter-side up.
5) Flip after a few minutes. Keep flipping until both sides are a tasty golden brown.
TIP: Slice of mozzarella + slice of cheddar = freaking divine-tier sandwich
---
Prepackaged Stuff

INGREDIENTS: 1 package of whatever
INSTRUCTIONS: Follow the instructions on the package; they're a touch more expensive but a nice break.