Finally complete, this is a list of the maps on The Last Stand 2 and the weapons to be found on each one. It's unlikely you'll collect every weapon in the game, due to the time limit, but if you do, congratulations. Hope you enjoy the guide, it took me a while to complete.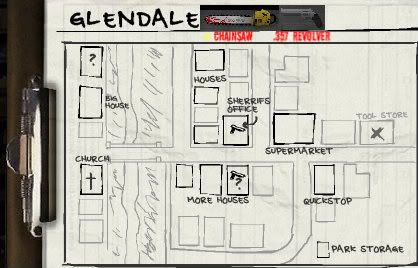 Easy to find the weapons in this area. Stick to the pistol, considering the enemies are easy to dispatch and the Revolver takes a while to reload. Give it to a teammate unless you like using it to eliminate dogs.
DO NOT LEAVE THIS AREA WITHOUT THE CHAINSAW! It's one of the most valuable weapons in the game.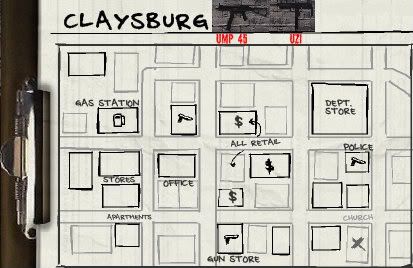 This area is difficult. Lots of enemies, a lot of them carry weapons. Chainsaw's a good bet here. When you get the Uzi, it comes in handy. UMP is also a very good choice. Make sure you leave here with plenty of supplies…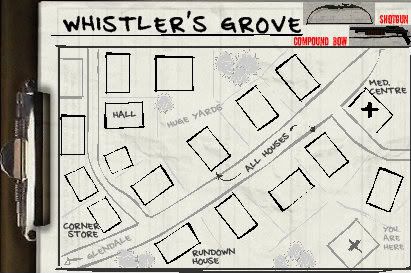 The basement. Unless you like the shotgun or the Compound Bow, or you're short on supplies, avoid this area. They pour through a small door and traps are only effective in the middle two rows. Shotgun would be great if not for the slow reload speed…


This place has the Hunting Rifle, a valuable weapon in the first game, a much slower reload speed in this one. Only come to this area for the Rifle, because supplies are very scarce here. This is a short trip. The Sawn-Off Shotgun only shoots twice and takes a while to reload, so don't worry about finding it.


This is the last stop on your journey to Union City, unless you decide to stop at the waterfront. The Grenades here will kill multiple enemies in a single blast, but they're hard to use. Wield at your own risk. The M4A1 Assault Rifle is a very capable gun and you'll probably find yourself using it, since it's equipped with large clip, moderate firepower and a decent reload time.


Ah, the astounding RPG and the MACHINE GUN OF DEATH! Unfortunately, the entire area of Fort Tran doesn't appear to be available on Kongregate.com, but these weapons are worth playing to get. They are the ultimate weapons and the MG comes with a massive clip of 200 bullets…teach those meatbags a lesson…