---
Challenge: Sumo Smash >>|<<
What's a Challenge? [See Gameplay ~ Challenges]
Challenges are optional.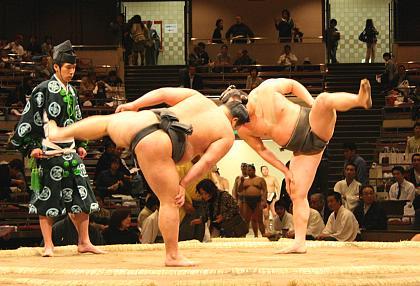 In Sumo Smash, the objective is to smash the enemy out of the fighting ring (>>|<<).
To do this, you must smash attack the enemy.
Smash Attack is reached at +500.
Each pun for your team's side counts as +100 to Smash Attack.
The pun must be relevant to the theme (the theme changes). No Repeated Puns.
You can only make a pun after two other players have posted puns.
Double puns will be ignored.
Smash Attack's strength is determined by a random number generator that produces strengths from 1-100.
If the enemy takes 150 Damage, the enemy is defeated.
I have selected teams using a random list generator.
Non-participating players will be removed after 3 Theme switches.
The winning team receives 2 Punee apiece.
The losing team will be eliminated entirely.
The winning team will be divided into 2+ teams (depending on divisibility).
Challenge continues until there is one remaining player, who receives 5 Punee.
---
(77 Damage) Team 1 (+ 400)
T6salt
GotterakaThing
devourer359
Bluji
burrito
RokRokRok
FelineForumer
AdeebNafees
MyNameIsNothing
helltank

---
(19 Damage) Team 2 (+ 200)
DragonArcherZ
TwistedCakez
puzzledan
CowFriend
Minnakht
GottaAskTheMan
Mysterymason
thijs956
funiax
Pulsaris
hamuka
---
THEME
: Dharma
---
Return to Quick-Click
Used: