I want to do this in a simple-to-create way. My A* maps generate themselves based on the map layout I have (so array painter kind of functionality, built into the game itself; the generation time is pretty insignificant 2-4 ms per level).
What I'd like to add is a lighting layer. Or rather, a shadows layer that is overlayed on top of the level and then masked out by the torches.
I can add a movieclip above everything that is black easily enough, but I don't want to go in and manually apply mask objects above every torch. Which…even that is very difficult, as you can't mask an object being used as a mask (Flash just says "f&ck you" and ignores it).
I don't need raycast light here, just really basic halos that don't care about walls, ah la retro RPGs: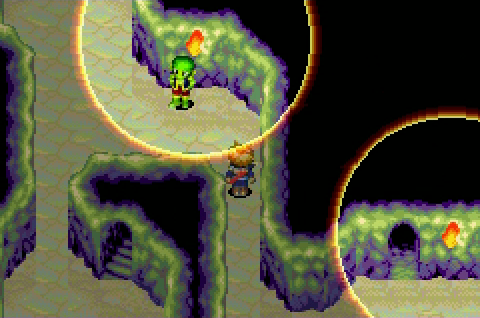 That game was a stealth area (stay out of the light) whereas the effect I want is similar, except that the areas of shadow are effectively invisible (covered in darkness). I just don't want to hand-build 30+ shadow layers!