Hello there all you art people. If anyone is willing to do me a favor I would really appreciate it.
I have an Image here that I am trying to edit. It was taken from Monster's Den: Chronicles and I am trying to get rid of the background of the image. I have outlined the picture with a high contrast color (pink) and traced it pixel-by-pixel, and then filled in the background, cut it out and posted it to a new picture with a white background. Here it is: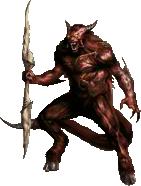 Now that I have the image with a white background, I was wondering if I could make a transparent background. However I have just reached the limits of MS Paint and I need someone with the experience of a better art program. Anyone willing to spare a bit of time?
P.S. This picture is partly for the Monster's Den Chronicles wiki, and partly for me to use in the game. I'm not intending to market it as my own artwork, or market it for that matter.
EDIT: Another image, sorry if this is any inconvenience.