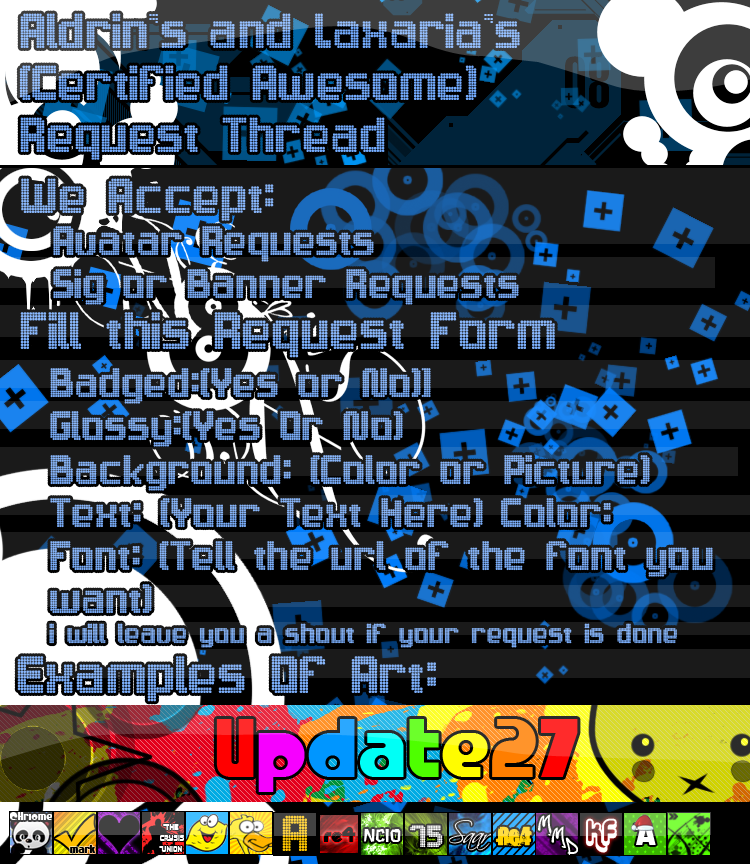 If you are Requesting for a sig, use Lax' Rules
Anyways, my rules for requesting a signature/banner:
1) You must provide the link to a uncopyrighted render or stock image. You MUST provide the link. I will not do signatures unless you provide a link to the image you want on it, and it must not be copyrighted.
2) Please provide the dimensions, or I will default to my own. The rough size of a signature is around 450*200 at max or so. Anything larger, and it will be called a banner.
3) Please let me decide the font of the text on the signature, as well as the background, effects, so on and so forth. The more control I have over what I do, the more interesting and better the outcome will be. This being said, don't be annoying and give me a green render and want it on a red background. That's horrid.
4) This is how you request for a signature:
Request: Signature
Link to render/stock: Link to render/stock
Dimensions:
(note: If the forum u are using it on has a file size limit, please state that so I can adjust the file size if required)
Text/Sub text:
As there are a lot of avvie requests, I will be using the find function on the exact word "Signature". If that is not in your request, it will be skipped.
If you have made a previous request, please repost it with the above form, following the above rules. The rules facilitate my work and make it much faster, making sure that I can optimise the time spent. Oft, I spend maybe 10-15 minutes getting the required stock/render for the sig and I honestly find that annoying.
If possible, I would appreciate that I know where the signature is going to be used at so I can accomodate for file sizes if required.