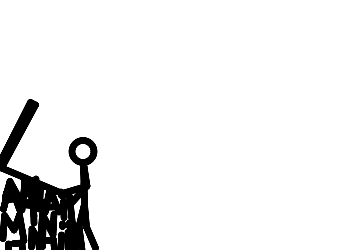 About
Post your animations here, they must be of quality work, you can use any animation program including; Pivot (PC) or Stykz (MAC + PC), EasyToon (PC) and many other animation programs to come! If they aren't of quality please save it for another thread.
What do we look for in an animation?
Movement: Is it a really choppy animation or is there little spacing between movements.
Creativity: How well is you general idea around the animation (what is your animation about I.E. two people fighting or some turtle walking down the road.)
Quality: Here we only want quality work, this rating mostly applies to Flash animations,
-Do you use layers? Or is it all just 1 layer.
-Is the art really good? Or is it just a line moving back and forth.
Use of the program: What tools and features did you use?
-Did you use them well? (this also applies to Pivot and Stykz even though they are both simple programs)
Entertainment: Was your animation mesmerizing to watch? (Could people take their eyes off your work)
If your animation has all of these things then it will be at a 5/5 rating or somewhere around there, depending on an area you missed.