This guide is just that, a guide. I'm not claiming to be the best or know what's best,
merely what works best for me through experimentation.
If you have recommendations from something that has worked better for you, feel free to say so.
Skills:
Super Knockback: 30/30
Mana Power: 1/1
Quick Attack Improve: 1/1
Super Knockback Improve:1/1
Strength Enhancement: 50/50
Dexterity Enhancement: 50/50
Artful Dodger: 50/50
Weapon Mastery: 15/50
MP Recovery: 30/30
MP Boost: 50/50
Combo Power: 30/30
Rage Power: 50/50
Rage Speed(Panic): 50/50
Poison Ability: 8/30
Blind Ability: 10/30
Weaken Ability: 10/30
Explosive Attacks: 50/50
Poison Power: 1/40
Blind Power: 40/40
Weaken Power: 40/40
Coup De Grace: 50/50
Weapon Boost: 23/40 (This is how much Speed is required for me to cap DH, if you have higher speed on your weapon these points could be better spent elsewhere)
Keen Eyes: 50/50
Double Hit: 30/30
Profanity: 1/1
Protection: 1/50
Buff Boost: 50/50
Crescendo: 50/50
Revive: 50/50
Revenge: 1/50
Absorb: 1/50
Master Hunter: 50/50
Legendary Weapon: 50/50
Adrenaline: 50/50
Invisible Ally: Invisible X
Ring: Evasion
Potion: Mastery
Robacon Weapon: Meteoric- Spawn/Dodge Chance/MaxMP
My Weapons(These weapons aren't optimal you should try to get LV10 Mystery rocks from
Triangle Hideout and identify them and make your weapons from them):
FG Stats: Attack Speed:11, Critical Chance:48%(With so much accuracy this high of crit
is probably unnecessary), Accuracy:129%(should be 144%+), HP Regen:250%.
FG1 Bonuses(Spirit): Spawn, Evasion, Evasion
FG2 Bonuses: Weaken Effect, Attack Power
All Armor(Unob LV5): Full Armor Attack(Make a new set to exclude crit dmg% for WM)
Armor: Spawn, Attack%, Equipment Attack
Neon Skin: Spawn, Attack%, Accuracy
(Accessories should be enhanced to 1,800 Def from SC & Triangle Hideout this is a lot of work but it's important)
Pendant: Spawn, Attack%, Attack Power
Medal: 4LC
Earrings: MBR of Power
Trinket: Gem of Eternal Rage
Strategy: Use manapower with SKB to clear the whole zone quickly.
Switch on your evasion pieces and your spirit FG when you get Chaos to a low HP, do it soon enough that you can fill your spirit.
When CHAOS appears unload using the "Chaos" Spirit ability to lower his accuracy & Attack.
After 5~ Chaos strikes you should be able to switch to your mana set and switch off your evasion pieces to your attack pieces(Skin/Pendant). Use Quick Attack to keep weaken/blind on CHAOS then switch to SKB for damage. Keep flipping between QA and SKB and you'll wear down CHAOS in time.
I am currently using an old file of mine to find the optimal setup using Fiend Glaive/Chaos.
I hope this helps atleast in a broad sense of how you should plan to kill CHAOS. Best of luck and Happy Hunting!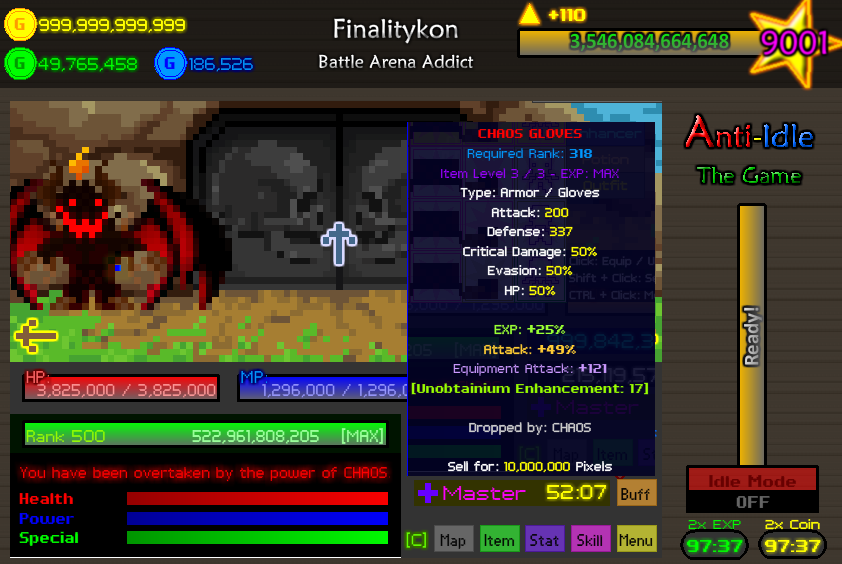 (Using this strat here was my attempt using Fiend Glaive and Chaos Gear.)