The Blobs

The stats
Aras
Red Stripped Black Male
Hit points: 25/25
Energy: 80/200 (Normal State)
Brain Level: 3
Size: 1
Diet: Carnivore
Speed: 2
Evolutions: Bipedal mouvement, Arms, Tentacles, Head, Fire(1/3), Tenticular Reinforcement, Horns
Attacks:
Slam 5 hp
Kick 3 hp, risks debalancing
Punch 2hp
Smack(Bone) : 5 hp
Whip(Tentacle) 2 hp
Headbutt 6hp, risks injury, vulnerable to attacks, slightly risks debalancing)
White
Black Male
Hit points: 8/25 (DANGER!)
Energy: 70/200
Brain Level: 3
Size: 1
Diet: Omnivore
Speed: 2.5
Evolutions: Slug Movement, Feathers, Faster Slug Mouvement, Arial Legs, Electricity(2/3), Adhesive Glands
Attacks:
Slam 5 hp at full speed
Tail swipe 2 hp + trip damage
Kick 3 hp, risks debalancing
Slimey
Skobeloff Male
Hit points: 25/25
Energy: 65/200 (Normal State)
Brain Level: 3
Size: 1
Diet: Undecided Omnivore, tending towards Herbivorism
Speed: 3
Evolutions: Slime Mouvement, Adhesive Glands, Faster Slug Mouvement, Improved Sight, Muscular Reinforcement , Nature (1/3).
Attacks:
Slam, 6 hp at full speed.
Tail swipe:, 3hp + trip damage
Kirb
Green-ish scaled Male
Hit points: 30/30
Energy: 76/200
Brain Level :3
Size: 1
Diet: Herbivore
Speed: 2.5
Evolutions: Bipedal Mouvement, Arms, Hands, Improved Sight, Extensive Vision, Spring Reflexes , Water(1/3)
Attacks:
Slam , 7 hp (more difficult if not at same height)
Kick, 5 hp, risks debalancing
Punch 4 hp
Arken
Red Male
Hit points: 25/25
Energy: 100/200 (Normal State)
Brain Level: 3
Size: 1
Diet: Carnivore
Speed: 2
Evolutions: Arms, Legs, Hands, Wind, Tail, Thick Skin
Inventory: Bone
Attacks:
Slam: 5 hp at full speed
Punch :2 hp
Smack(Bone) : 5 hp
Kick: 3 hp, risks debalancing
Tail swipe: 2 hp + trip damage
Waswowarum
Dim grey male
Hit points: 23/30
Energy: 79/200
Brain level: 3
Size: 1
Diet: Omnivore
Speed: 2
Evolutions: Bipedal mouvement, Head, Arms, Hands,Electricity (2/3), Hands
Attacks:
Slam5 hp (more difficult if not at same height) )
Kick 3 hp, risks debalancing)
Headbutt 4hp, risks injury, vulnerable to attacks, slightly risks debalancing)
Punch: 4 hp)
Anjea
Purple Female
Hit points: 35/35
Energy: 68/200
Brain level: 3
Size: 1
Diet: Herbivore
Speed: 2
Evolution: Bipedal Mouvement, Head, Feet, Electricity, Horns
Attacks:
Slam 5 hp at full speed
Kick 3 hp, risks debalancing
Headbut, 6hp, risks injury, vulnerable to attacks, slightly risks debalancing
Punch: 3hp
Gamma
Green Male
Hit points: 25/25
Energy: 86/200
Brain level: 3
Size: 1
Diet: Carnivore
Speed: 1.5
Evolution: Improved sight, Ears, Arms, Tentacles, Thick Skin
Attacks
Slam: 6 hp
Punch: 3 hp
Swinestinger
Neon orange female
Hit points: 34/35
Energy: 85/200
Brain level: 2 (Will upgrade next turn)
Size: 1
Diet: Carnivore
Speed: 1.5
Inventory: Bone
Evolutions: Arms, Heads(2), Legs, Ears
Attacks:
Slam 5 hp
Punch 2 hp
Smack(Chicken Leg) :5 hp
Headbutt, 4hp, risks injury, vulnerable to attacks, slightly risks debalancing)
Leaf
Light blue female
Hit points: 24/25
Energy: 70/200
Brain level: 3
Size: 1
Diet: Omnivore(Undecided)
Speed: 2.5
Evolutions: Bipedal Mouvement, Feathers, Tail, Aerial Legs, Feet, Head, Wings(2/3)
Attacks:
Slam( 5 hp (more difficult if not at same height) )
Kick( 2 hp, risks debalancing)
The stages
Turn 1
Originally posted by ZigZagZombie:


It seems that the Blobs have spawned in a very lush and prosperous land, as they seem already surrounded by alot of food sources. Looks like a poor heard of chickens got roasted as the remnants of the meteorites came down on the planet, but they seem to be the only victims. They must of been fragile.
Turn 2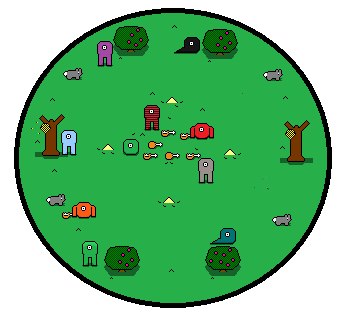 Originally posted by ZigZagZombie:


No surprise, all of the Blobs instantly begin feeding, regaining slightly their ancestors form. Some of the more carnivorous head directly for the fried chicken legs, who end up very nutritious. Others opted for a more herbivore diet, and go for the berries, the grass, and even the tree bark(which wasn,t really easy or doable without strong teeth). The mostly near-sighted Blobs havent explored any new territory, so far. One of them approaches a bunny, but doesnt take any action at it.
Turn 3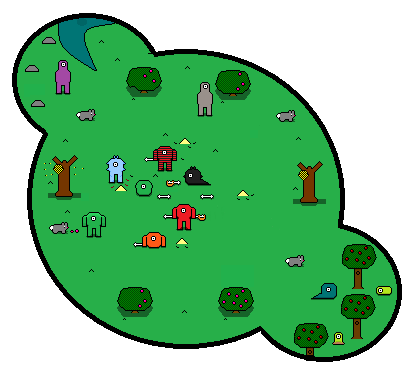 Originally posted by ZigZagZombie:


A bit of exploring has commenced, each of them discovering something quite interesting.
Turn 4 (Nightfall)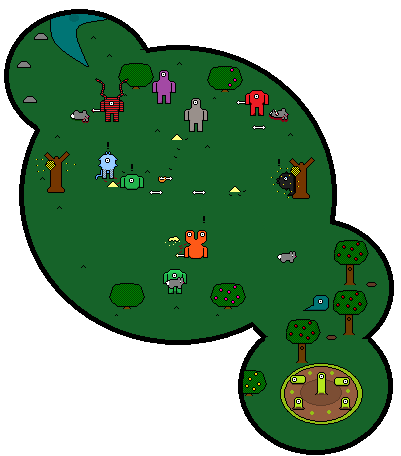 Originally posted by ZigZagZombie:


Action, Chaos and more in this beginning of nightime on the once calm planet
Turn 5 (Midnight)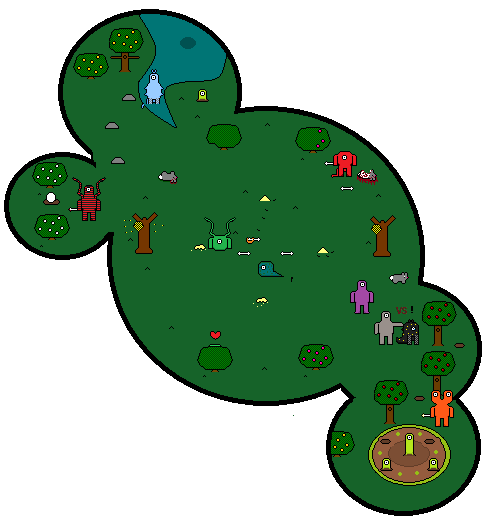 Originally posted by ZigZagZombie:


Getting to the point:
Aras found a nest with an egg.
Kirb is mating with a rabbit(Thus, the heart icon)
When approaching the water, the dark puddle seemed to have moved away/flee from Leaf
From approaching the tribe, Swinestinger noticed that the other Blobs took notice of its mouvement, communicated with each other, then two of them dissapeared in the ground
Anjea was unable to complete it's action because..
White was on it's way towards the tree, trying to hop and get an apple while getting stung by bees when suddenly, he got punched in the face?
Waswowarum (GotterakaThing) has engaged White (Cowfriend) in combat!

*Reminder: If you want your action to remain secret/surprise from the public(Like Waswowarum punching White) post a fake action then send me a private message of your real action. *

1-What shall your Blob do?

Turn 6 (Daybreak)
Originally posted by ZigZagZombie:


What's happening?

Seeing death approach, White quickly performed a tail swipe while receiving a punch back, knocking Waswowarum to the ground. Following that he quickly attempted to climb the tree, while Anjea was trying to get between the two. Thinking of knocking him down before he can get away, Leaf,Slimey, Kirb and Arken charged for the White. By the skin of it's teeth, and thanks to Anjea, White got into the small tree and with its newfounded adhesive glands, he sticks to the tree's branch. The branches seem unstable. At the end of this whole conflict, Gamma picked up two bones and chucked them at Waswowarum. Gamma has engaged combat with Waswowarum

1-What shall your Blob do?
Anjea developed Electricity
Arken developed Flight
All credits to the creator.
Here's the forum thread of the game