Citizens of the world, Empire has begun!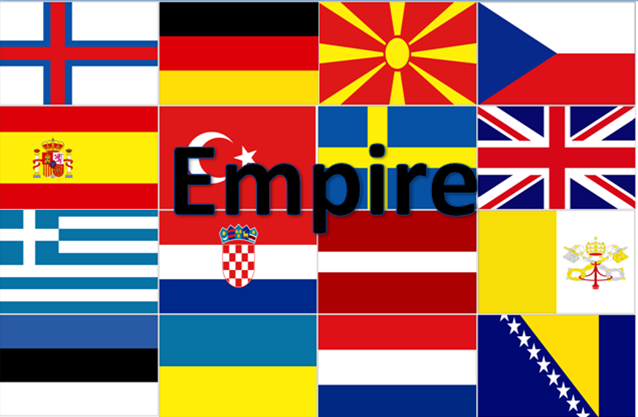 The Rules
All forum game rules apply to this game.
Do not reveal your points distributions.
Points
You can change your points distributions every three days. If your country gains 5 points by winning a war, I will put the 5 new points on Armed Forces, unless you send me a whisper telling me how to distribute the 5 points.
Wars
One country can be in a maximum of one war per day.
A country can go to war with any other country it likes, except in certain circumstances where I block a country from being involved in any wars. This will most likely be if two countries are merging, and I am awaiting confirmation from both users, in which case I would block both countries involved from entering a war.
To announce that you are invading/going to war with another country, you post on the thread. You can send me a whisper as well if you want, but you have to announce it on the thread.
Disasters
A disaster may happen in any one of two regions in Europe. Only one disaster can occur each day. When a disaster occurs in a certain region, the country with the lowest Resources points in that region is eliminated.
I choose which region the disaster occurs in by a random generator – there is no bias involved.
Regions:
West Europe: Britannia, Icebourg
East Europe: Revolutia, Kosorra
Merging
A maximum of three countries can merge to form a new, bigger, country, either by two countries merging and one merging with the new country later, or by all three merging at the same time. If two countries merge, the newly formed country gets five points extra, but if the new country merges again with another country, it doesn't get any more points extra.
I will try and give a good name to countries newly formed as a result of merging, based on either history, geography or a simple combination of names. For example, if Latvia and Lithuania were to merge (they are not in this game, I know) I would name the new country Livonia. However, if Ukraine and Iceland merged, it is harder to find a link between these countries, so I'd call the new country Ukraland or something like that. If the two users in charge of the merged country aren't happy with my name, I will change it as long as they can come up with a name they prefer that relates to one or both of the old countries in some way.
I need a message comfirmation from both users who intend to merge countries in this thread, otherwise I can't merge the countries.
Merged countries need to send me a whisper with their new points placements.
If a country wins three wars or more, it can call itself an empire. For example, if Sweden beats Iceland, Germany and Greece, it will earn the new name 'The Swedish Empire'.
Good luck, may the best country win!
List of countries:
The Britannia Empire (JaumeBG, walfordking, wizard96)
Germany (rokun)
Greece (RoguePilot)
Greenland (zedd236)
Icebourg (kilroy37, sgtawesome16)
Ireland (flashdeath30)
Italy (sargentguy)
Kosorra (Guillem14, commie_commander)
The Revolutia Empire (Fogfun, AbusedZebra, Helkaine)
Sweden (DragonBlaze123)
Switzerland (SoundFXMan)
The Revolutia Empire has taken control of Europe! Fogfun, AbusedZebra and Helkaine win!
Day 1
A murmur of anticipation is spreading across Europe. A lot will happen over the course of the next few days. Every country will be affected, and Europe will never be the same again. Right now, though, no-one suspects any change except the governments across all 17 countries. In the offices of every national government, presidents, kings, prime ministers, emperors and even Popes are planning their strategy, plotting attacks and negotiating fiercely with other countries.