There are 3 types of children.
1. The good ones that respect their elders
2. The little bratty ones that don't know their place. (these are often the ones you see cursing on the playground in kindergarten)
3. The kids that cry over the littlest things.
So in my experience, the type 2 kids are the way they are because their parents don't disciplin them enough and they get their way all the time.
The type 3 kids are babied by their parents. For example, when they fall off their bake (the skin is barely scratched) they freak out screaming and the mom or dad rush to him and cuddle him till he stop crying.
Type 1 kids are perfect i have nothing to say about them.
How should these parents change to better their kids attitude.
I think the parents of the type 2 kids should be more stern and learn to tell their kids no. Yes I know its not alwase that easy but, they need to hear it or they will grow up thinking that everything they want will just be handed to them.
The parents of the type 2 kids need too… well this picture says it all.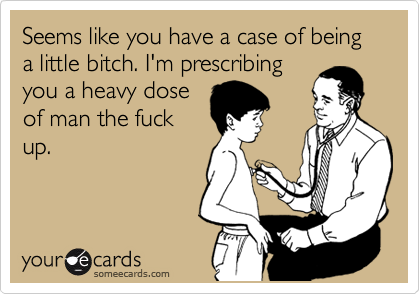 So what do you think about these kids? How should their attitude be handled?