Originally posted by tenco1:


Originally posted by jhco50:


Overreact? Really? You think I should listen to you guys rant night after night without calling you out? LOL!

No, just that I get a little tired of your same schpeel about how everyone hates America because they don't agree with you.

You know exactly what I'm talking about. Stop trying to dance around my statement.

What's there to dance around, ever-lasting hyperbole?

It sounds like they are sure America is a horrible country, but they sure like our dollars.

And you know this all… How, again?

Of course it is about personal arms.

Then don't imply that you want to wage war with someone because you want to keep all your guns, no matter how unnecessary they might be.

Why should Americans have a God given right they don't? How fair is that?

That makes… What?

Then stay in your country and quit using anything we mericans invented.

I love the smell of freedom in the morning. It smells like…. gun leather.

Strange, that also smells like strong-arming.

See? I can make a horrible argument too.
Tenco, I don't know why I am easy on you. Sometimes you are pretty raw, but I guess I just like you. that being said, you know as well as I do that although we are international, America is the country others love to hate. It doesn't matter if they agree with me or not. I know this because I read the posts too, just like you my friend.
You know, I will keep my guns regardless, but I would love to be able to educate those who have no knowledge of firearms. We gun owners don't just own them because the kill. We compete against others (in many cases for money), hunt, and a myriad of other uses. Some owners never even fire their firearms, they collect them for the beauty, both aesthetic and mechanical.
The firearm in this picture is an 1873 Colt Army 2nd Generation…It is unfired and has never been cocked. It is missing the grips, loading gate, ejector rod, and trigger as it has just been engraved. These parts will be engraved and reunited with the firearm before being sent back to the owner. It will be encased in a fancy wooden case with accessories and will never be fired.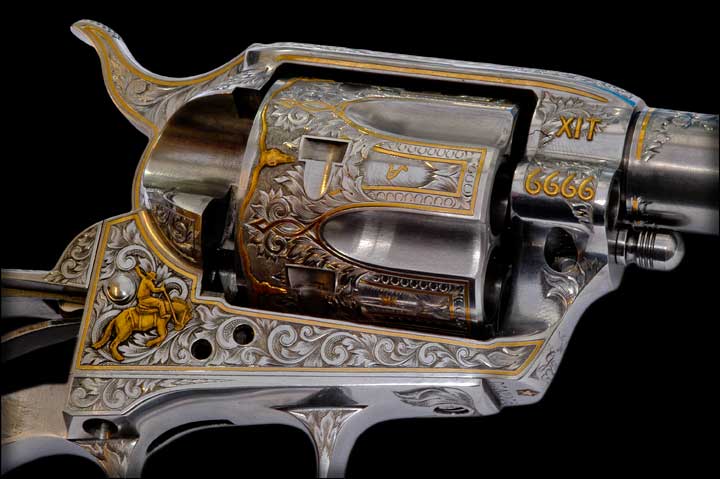 All I did earlier is extend an invitation which it seems no one was willing to accept. Forgive me for being a good Samaritan.