Topic: General Gaming / Monster's Den - Book of Dread - Fall of Tellunos
Yep, I played once more, just to make sure what I gave as advice above, was sound.
Same party concept, but I went to the shop four times, as I wanted to achieve certain break points for my characters, which gear enhances. I'm not going to make a separate video for the gear and set-up, as the one above demonstrates quite well how to get the party going. I'll publish some pictures instead, for the stats and final attributes. You can then discern what the gear augmented and provided. A late wave video demonstration, will follow after the pictures.
Cleric:
I wanted; over 200 life, at least 45% damage reduction, and a quickness of 46. Assigned stat points went 1/3 to endurance, and 2/3 to intellect.
…
Conjuror:
Criteria was; quicker than the cleric, at least 260 damage (with intellect added), replaced the Manasprite skill with Banish. All stat points into intellect.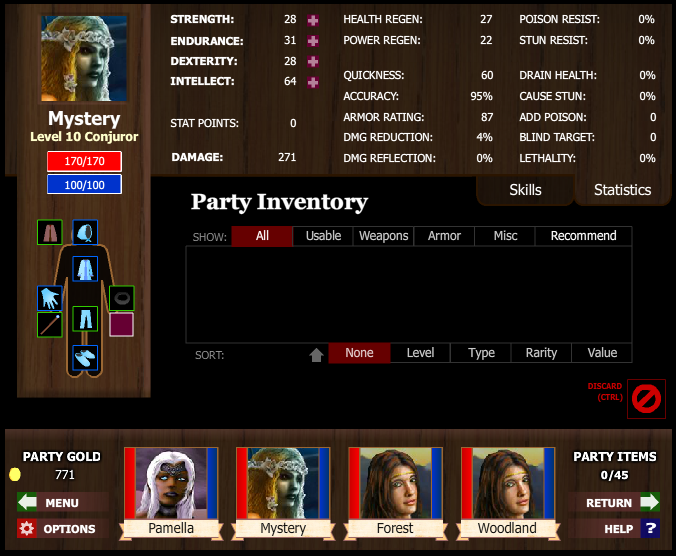 …
Ranger #1 (Swiftness):
Criteria; 20 power replenishment, 32 poison add, and 67 quickness (or enough to be slightly faster than ranger 2). All stat points into intellect.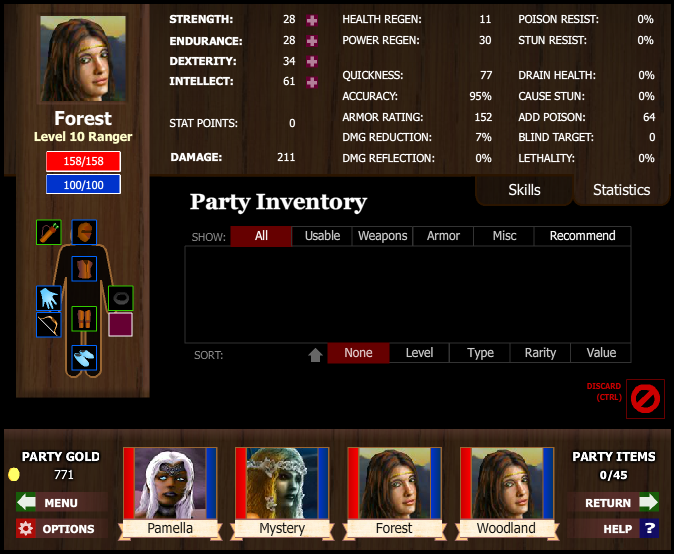 …
Ranger #2 (Healing Lore):
Criteria; 20 power replenishment, 32 poison add, 66 quickness, and enough intellect that the Nature's Balm skill adds 40 regeneration. All stat points into intellect.
Passive skills, for all characters, are the exact same as in the set-up video above.
Active skills, are near the same, but I showed each anyways, at the beginning of the video below.
---
Now then, I recorded several videos during waves above 100, looking for interesting battles to show. I'll publish the one from waves 151 to 155, as there is an undead wave with three wraiths, and the other two videos in this thread don't show any…
Youtube link: Survival Waves 151 to 155.
You might think that I was going to get killed soon after what you see in the video, but I recovered very quickly. Both wargolems used the Harden skill, I revived the Conjurer, and a few turns later I Called Soul on the cleric, which bit the dust right after. Both rangers, pinned and selectively killed appropriate dangerous enemies. Sorry about the video ending like that, I know it would have been interesting to see the recovery, but my program allows for 15 minutes only and then cuts whenever that point is reached.
So I wanted to last till the 200's, and was figuring which wave to record at that point, while playing the game as my mind wandered. And that's when I made a mistake at wave 195; I did not correctly figure the poison applied and the monsters died right in the middle of the turn sequence. Oups! Wave 196 came in, and immediately slew both my cleric and conjuror, before any character could do anything. Oh well, I fought on for a couple more turns, and snapped the picture below, because I knew that I wouldn't survive another round…
So, the team composition, skill choices, minimum criteria, etc., seem to be all good. The team failed because of me, and not due to any deficiencies within the concept. I think they could have gone on, at least for another 40 – maybe 60 – waves.
As opposed to the two dungeon campaigns, where I like to have the battles decided by the second round, in the Fall of Tellunos campaign I'm controlling a protracted battle, and managing it to conserve the fighting ability and, survivability of the team, for as long as possible.