Topic: Knight's Fable / BrewFest Event (with updated info)
BrewFest top 50 ranked players will get: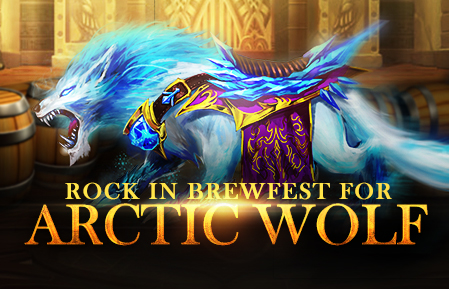 Duration: Feb 20th to Feb 26th
Conditions: For players of Lvl.20 and above.
Rules:
1. Daily material pack will be given away at 12:00 and 18:00. With higher Brewmaster level, you can get more materials. (30 at initial level, then 35, etc.)
2. Players can brew alcoholic beverage with materials of different qualities. The higher quality, the better you brew.(1-4 pts for normal, 1-6 for uncommon, 1-8 for rare)
3. 1-3% Fatigue is accumulated with each brewing process. 1 material with Fatigue of 0-49%. 2 materials with Fatigue of 50-99%. 3 materials with Fatigue of 100%. (resets to 0% once the brew is sold)
4. Chances of getting double or triple points.
5. Only brew of Lvl.3 and above can be released for points.
6. Brew of Lvl.20 and above will be placed automatically into the party for all players to enjoy at 12:00, 18:00 and 22:00. Random item is rewarded after enjoy.
7. Each party lasts for 1 hour. Brew enjoyment has a 5 minutes cooldown.
8. After brew is depleted, the brewer can get popularity to raise Brewmaster level. (from 10 pts for lvl 20 brew to 15 pts for lvl 25 brew)
9. Players who get ranked can claim daily rank rewards. Players who obtain cumulative points no less than 1200 can get ranked in the overall rank and claim rewards at the end of the event.
10. Players can exchange rare items of a limited quantity with points in Brew Shop.