Topic: Knight's Fable / Knights Fable v3.12.5: Legend of Samele
Luck or Guard, which one will you meet? Are you lucky enough to access the last Stage and pick up the legendary hero Apollo or the powerful beast Unholy Blood Wolf? Be prepared for this adventure!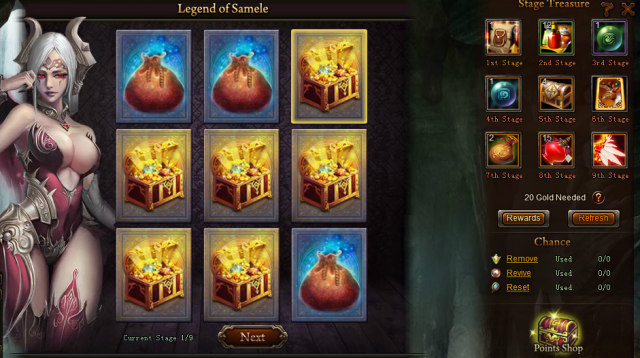 Rules:
1. 1 free attempt everyday. 50 gold for the next 4 attempts. 100 gold after that.
2. Legend of Samele consists of 9 stages, each with a choice of 9 secret chambers, pick one to try your luck.
3. There are 3 types of secret chambers: Guard Chamber which kills the player instantly and gives no reward, Fortune Chamber which passes the stage but without the stage reward. Treasure Chamber which passes the stage AND gives the stage reward.
4. Players can use the "Refresh" button to repick randomly the treasures of all stages at once. This can be used to change the reward of the current stage and the future stages but not change the rewards of previously passed stages since each passed stage gives the reward instantly.
5. Players can use the "Remove" button to reveal 1 Guard Chamber in current stage.
6. After being killed, players can use the "Revive" button to continue exploring the current stage.
7. After being killed, players can use the "Reset" button to restart the current stage.
Additional info:
1- Each passed stage gives increasing amount of points (10,20,etc) to spend in the point shop.
2- Unspent points are saved.
3- Each stage has 1 additional Guard Chamber. Starting with none on stage 1 and 8 on stage 9.
4- Not all stage rewards have the same chance to appear when refreshing rewards.