Topic: Knight's Fable / Knights Fable v3.16.3: All-Star
Greetings from the Knights Fable team! We've been hard at work putting this new All-Star system for you. Today we're going to provide you with an overview. In this post, we'll tell you about the guiding lights of the All-Star system.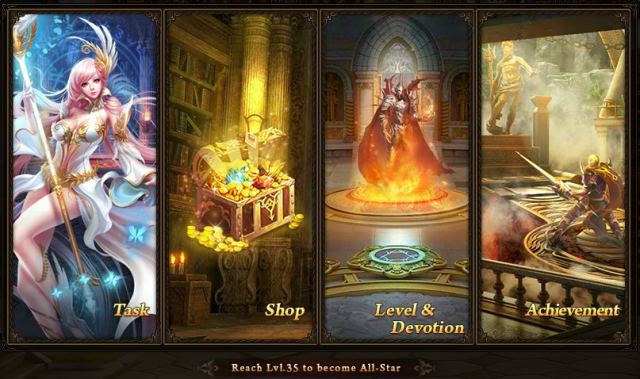 TASK:
1- You can complete up to 10 All-Star tasks per day.
2- Completing 10/10 daily tasks yields a great reward. It resets to 0/10 everyday, completed or not.
3- Tasks rank range from 1* to 5*.
4- You can spend 200k silver to increase the star rank.
5- Higher task rank give more exp and wisdom, but the main reward is the same.
6- Tasks can be changed 3 times total for free per day via the refresh button.
SHOP:
1- Shop items are changed and refilled at 8:00, 12:00, 18:00, 22:00 server time.
2- Unlimited refresh can be done with gold.
3- Buying All-Star shop items gives points toward your All-Star rank exp bar.
4- Higher rank gives high discounts.
LEVEL & DEVOTION:
1- You can view you current All-Star rank progress here
2- Daily, Weekly and Monthly rewards can be claimed under the devotion sub-tab.
3- All-Star rank progress is obtained by: completing All-Star tasks, buying All-Star shop items, recharging gold.
ACHIEVEMENT:
1- The badass rewards are here!
2- At rank 5 a Mikael tier hero of your choice can be gotten for free!
3- At rank 10 a Odin tier hero of your choice can be gotten for free!