Topic: Kongregate Multiplayer Games / [Eredan iTCG] Ferrus' Guide to adventure decks
Theya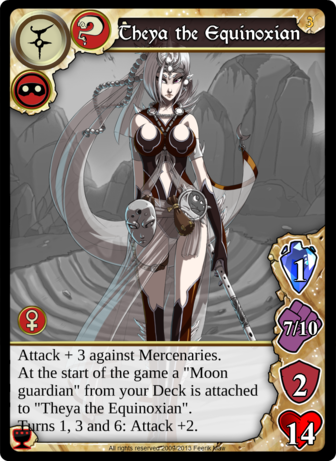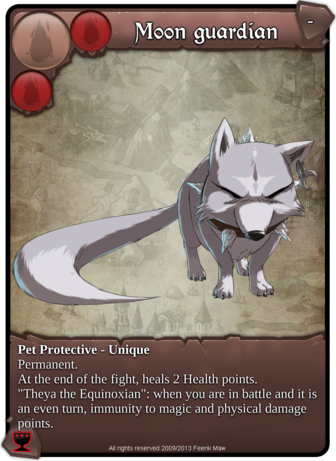 Event Character. Her main draw is her invulnerabity during even turns. She has solid stats and using her during the right turns gives a good amount of time to build up. Lack of Golem race handicaps her though. She is a solid choice if there is nothing better.
Valentyne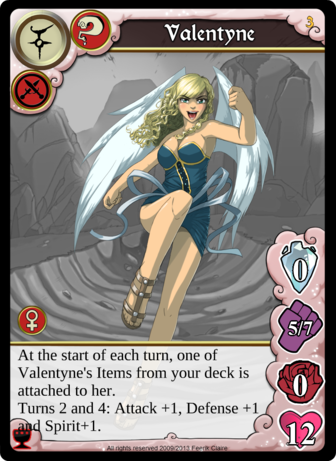 Event Character. Self-building "golem". The free equipment makes her build-up fast and as such it is possible to build her up fast enough.
Archmage Artrezil & The Althing
Discard Althing to have it on top of your grave. As long as it stays there Artrezil can only be killed by damage outside or after a fight. Not really a golem, but very few AI opponents can kill him, so he can slowly whittle their HP and cards down, and then finish them off with the right card.
Big Characters
All the big characters (Characters that count for 3) can work similar to golems. As such this guide applies to them as well. But since big chars generally have big stats, the build-up required is far less and it is quite possible to build the deck around only having to survive long enough to kill.
Debuff Craftsmen
Basically a reverse golem, Craftsmen have a number of very good buffs as well as a big number of debuff items. With most bosses being single enemies, it is possible to debuff them down and make them harmless. Also the same applies to Nehant corruption mages.
.
.
.
The most important part of a golem deck is the items you use for your golem. Due to golems being able to play and use almost any items, what you use depends on what you have and want to buy. As such every golem deck is unique and a hard list of what to use and what not is not viable.
Special note regarding craftsman items: Many craftsman items use the ability of craftsmen to attach them to other characters. Golems don't have this! As such be careful when playing craftsman items with your golem, since normally they will all attach to it.
Generally you want an Armor and Shield on your golem. Of Special Note is that those usable by craftsmen can be attached to your golem and as such circumvent the downside of activating after the fight, since the golem is not in the fight.
Other than that you want Defense and or Spirit as well as damage reduction.
Size 50 Monkey Wrench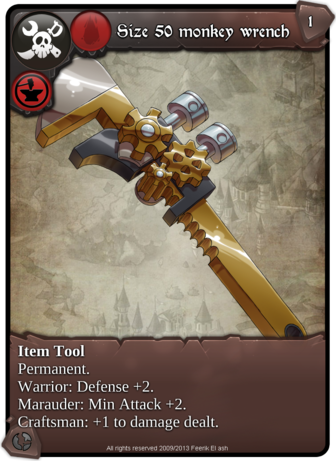 Most defensive craftsman cards that are of special note have already been discussed with their craftsmen. This item however is an immediate +2 def craftsman item and as such rather decent.
Hobnailed Getas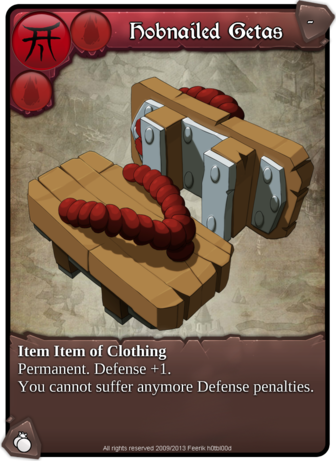 Some bosses have the ability to decrease your stats. Use this against it.
Exoarmore MK II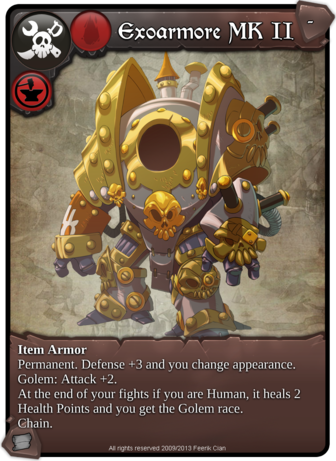 This makes your humans golems and makes your golems a lot stronger. Now every human you want can become your deck's golem as long as you find a way to apply this armor to him. The one downside it has is that the golem transformation happens at the end of the fight, so you need to fight at least once ungolemized. In some cases this might be too slow, use your judgement to decide.
More Attack = More Good
Some powder weapons can be used to inflict direct damage. Those can be considered as an alternative means of offense.
Portable Heater and Emergency Generator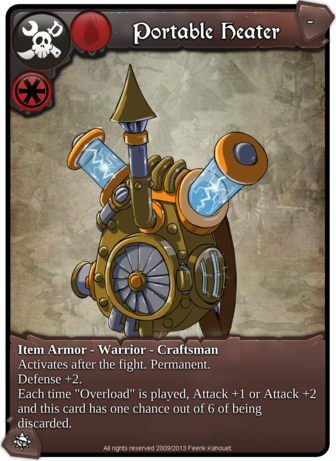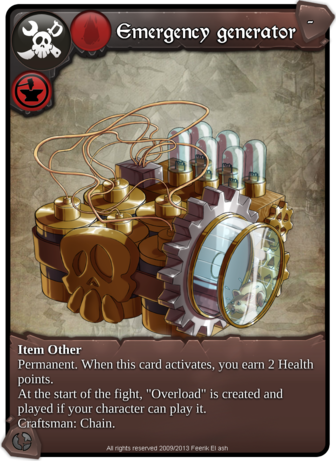 Growing attack power and/or direct damage your Jorussiens should absorb? Yes please.
Firon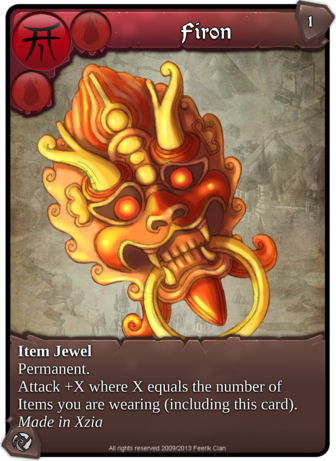 Given how many items you are attaching to a golem, this should be obvious.
What any golem wants is a second line of defense against strong bosses and direct damage, as such any card that heals the golem should be considered. Remember golems can play items of any guild.
Chimera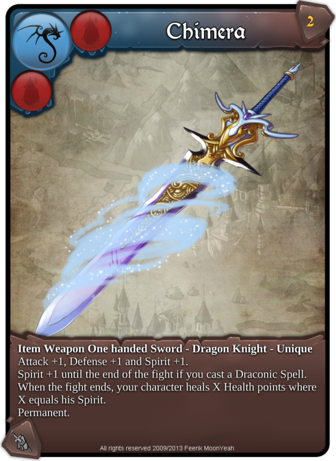 The ultimate weapon for golems. Pump your spirit and outheal any damage the boss does. The downside is the price.
Dreist and The Dragon's Awakening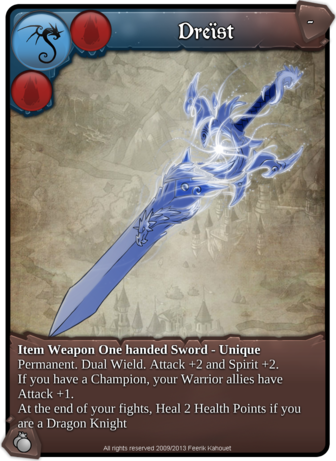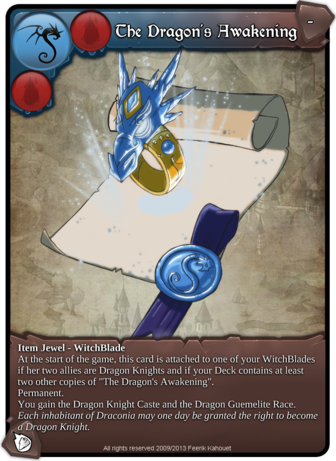 Not as good as Chimera but it is a bit of healing and more reliable than Life Devourer
The Pirate Code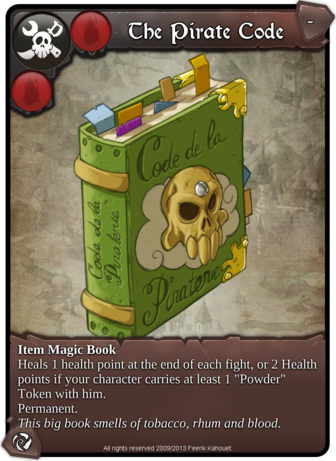 One of the stronger, cheap healing items. It's easy for a golem to gain some powder and even easier for a pirate golem.
It is a huge advantage to play S.A.R.A.H. and have all the discarded cards come back eventually instead of them being gone forever. Especially against though opponents digging through your deck for the important cards can be necessary and regaining them a boon. Sadly the only golem with inbuilt recycling is S.A.R.A.H., but there are a few alternatives:
Gaze of the Crow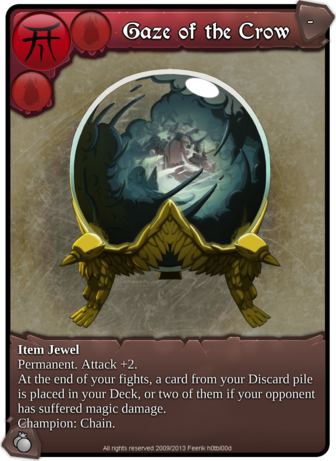 Slowly recycles and gives a moderate attack boost. Really worth an inclusion if you aren't using S.A.R.A.H.
Magic Hat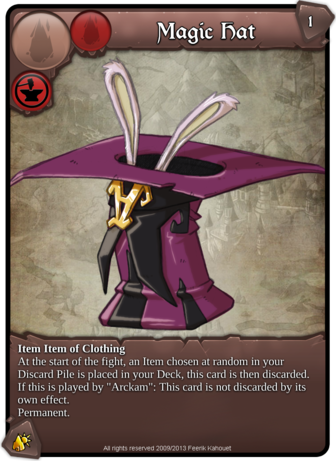 The one reason to use Arckam. Without him this hat works once, with him it works eternally. And even though it only recycles items, that is quite useful, especially if you use temporary items. Any Zil or Mercenary golem deck should think about including this, and it even works for non-golems.
While the other categories are important, golem decks include other cards that increase speed, help survive or enhance the performance in other ways. Be creative, many cards can be surprisingly useful.
Backpack
Gives your golem chain. your golem wants chain, as do your craftsmen.
If you are lucky enough to own the Neutral Anxiom use that and Chain Labor is a decent substitute for your craftsmen.
Captain's Hipflask
High stat boosts, chains and no downside for pirates while non-pirates can be built to completely absorb the downside. Use it.
Crown of the Border
Like the Getas protects against any and all stat debuffs, usefulness varies on boss, but against some it is a big help.
Elfine Bow
When you need to kill multiple opponents at once. Pirates can use Weapon Kata too.
Gold Medal
Event Card. The stat increases stay even when the medal is removed. This is a long-term victory on its own.
Health Potion
Event card. Gives your craftsmen chain, can be recurred and boosts are permanent. what's not to like?
Odds and Ends
Gives your craftsmen a craftsman item to play. While it clutters up the deck, it helps your draws enormously. The only danger is that if it pulls an item the craftsman can't play, it will just discard.
Ptola Mask
I'll use this one as a representative of "Slow death" cards. There are a number of different cards that once the golem is unkillable can be used to whittle away at enemies without using normal attacks. Generally it is a viable strategy, but it is slow and normally attack-boosts suffice to kill the boss faster.
Recycling
For pirates. Creates an endless number of new Ica-Rusty's arms to make Doctor Octopus green with envy. Really powerful, but banned in many parts of the dark tower.
The Gutted
Trophy Card. Generally golems fight one boss so this card stay and slowly debuffs it. While the debuffs is random and slow, there is little harm to it and in slow fights bosses it can be significant. But generally not a card of big use.
: Added classes, guilds and castes
Some cards like Savage Cloak or Paladin's Amulet add classes, guilds or castes to the wearer or his allies. This allows you to employ cards that normally are not available, or card effects that normally are not usable by your golem.
The only downside is for cards that are not applied to the golem that it's only lasting as long as the wearer lives, but if you can put another Savage cloak on the golem that one keeps all the modifications applied to it. Be creative and you'll find use for these cards. And whenever yous ee a card you want to use in your golem deck but can't, another card might allow it..
.
.
.

No decklist.
Building a golem deck on a budget is often a matter of what's available and affordable and the bar for success varies against different bosses. Generally golem decks can be cheap, but effective ones often cost quite a sum. Also it's possible to build expensive ones. How you build a golem deck is up to you, but creativity can replace a big amount of expensive cards or augment them. Also bosses vary a bit, so different strategies can be necessary.
Golem decks however can easily go beyond 20 cards and for slower ones it is recommended, esp. if you have no ways to get cards back. Just be careful not to clutter your deck up with unnecessary or situational cards that actually hinder your play.